Do you need an energy boost?
Lack of energy at this time of year is probably a fact for many – but fortunately there are small steps you can take to get a little more! Among other things, there are both food and drink stuffed full of energy-boosting ingredients.
We have therefore asked the food influencers about their best recipes and tips for more energy in everyday life!
Tiril Refsum
Many people can probably recognize themselves in the fact that energy is not at its peak during the winter months – what is your best tip for getting more energy in everyday life?
– Sleep, sunlight and hot chocolate. And training! These are basics, but I like to make it easy, says the founder behind the plant-based café chain Oslo Raw for Melk & Honning.
– A cup of cocoa on the morning twig or for lunch (or both) makes both my mood and my energy better. I set aside a lot of time for fun. Right now I have filled the couch with duvets, taken a foot bath and give myself a gua sha treatment.
– Preferably with something delicious on Netflix, or the new one Sex and the Cityseries.
What do you prefer to eat and drink in the morning at the moment?
– I start with warm water with a little Himalayan salt or lemon. Some days I drink celery juice on an empty stomach. In recent weeks, I have replaced the coffee with Chicca Roast, which tastes wildly good. I mix in cocoa, chaga, collagen, mct oil, cinnamon, vanilla, stevia and warm coconut milk (and some other adaptogens, but it's a bit good to list them all here).
– This will be breakfast, and then I end up at Oslo Raw at lunchtime and have a salad, sandwich or waffle for lunch, Refsum says.
What are your best recipes for food and drink that give an energy boost?
– Hot super chocolate is on top here, because it gives a good stable boost with lots of good fat and nutrition. Otherwise, I cook my own power on the power bones of game that I drink daily. I make soups, stews and other goodies based on this nutritious drink. I'm also hooked on my sweet potato brownie fudge muffins, they are unstoppably good!
Recipe for hot super chocolate:
What do you need:
3-4 dl optional milk or very hot water (or a mixture)
3-4 tablespoons cocoa powder
1 tsp mct oil
1-2 tablespoons raw coconut sugar or maple syrup
A sprinkle of cinnamon
A small pinch of salt
For extra boost, add: chaga, maca, ashwagandha, reishi, lion's mane, Keto Brainz, Chicca Roast, coconut butter, almond butter, tahini.
This is what you do:
Put all the ingredients in a small saucepan and heat while stirring. Feel free to use a hand-held milk frother to make the cocoa extra rich. Enjoy it right away.
You can adjust the sweetener as needed. A tip if you want it sweet without sugar is stevia, vanilla, monk fruit, inulin, xylitol, erythritol or fiber syrup.
Recipe for sweet potato muffins with chili:
What you need for the muffins:
1 large sweet potato
5 tablespoons almond butter
4 tablespoons maple syrup
2 tablespoons coconut oil
2 dl oatmeal
3 dl cocoa powder
1 teaspoon baking powder
4 tablespoons coconut blossom sugar
1 teaspoon chili powder
1 tsp salt
This is what you need for the glaze:
2 tablespoons coconut oil
4 tablespoons maple syrup
2 tablespoons cocoa powder
1 teaspoon chili powder
3 tablespoons almond butter
1⁄2 teaspoon salt
This is what you do:
Preheat the oven to 180 degrees. Peel the sweet potato, cut it into pieces and run them in a food processor until they are completely finely chopped. Then add the rest of the ingredients and run until everything is well mixed. Distribute the dough in the muffin tins and bake them for 20 minutes while you make the icing. Melt the coconut oil in a water bath and stir in the rest of the ingredients to a smooth glaze. Store the icing in the refrigerator until the muffins have completely cooled. Spread the icing on the cooled muffins and enjoy!
Tips: Replace the muffin tins with a square shape of about 25 × 25 cm, and make a brownie instead.
Irina Smit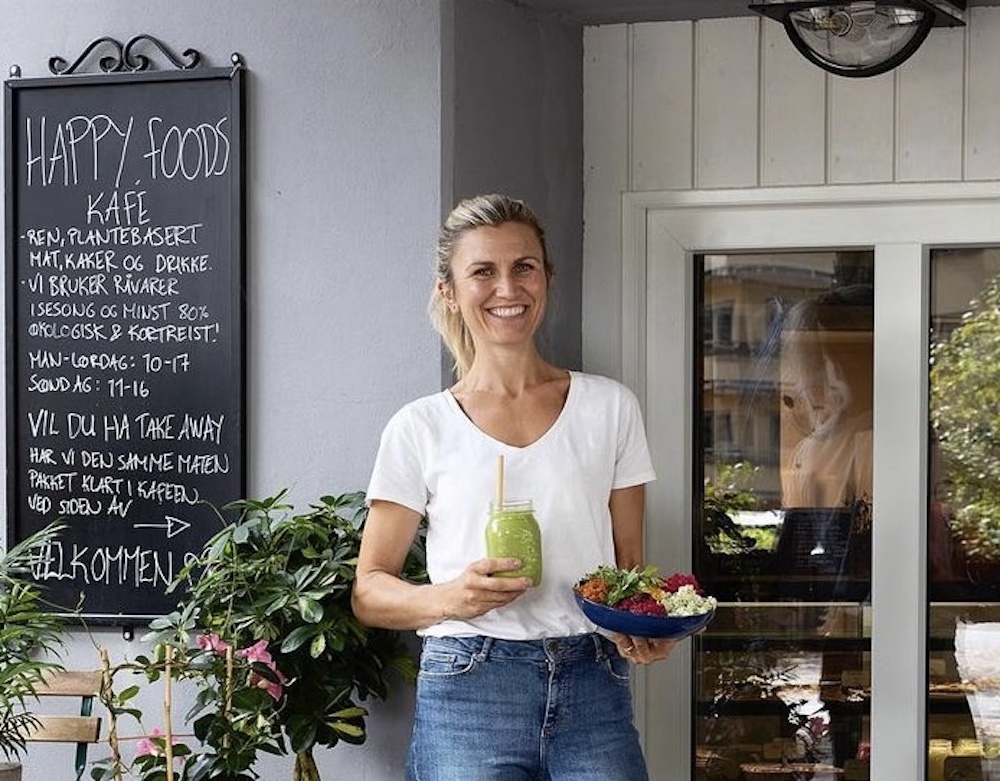 Many people can probably recognize themselves in the fact that energy is not at its peak during the winter months – what is your best tip for getting more of it in everyday life?
– My best tips are to make sure you get enough sleep, eat lots of colorful food and get fresh air! Regardless of whether the weather is bad, at least I have to have a good dose of fresh air every day to ease the pressure in my head a bit, says founder and owner of the café Happy Foods.
– Exercise is also important to get more energy. I myself love outdoor activities such as running or skiing in the winter. Otherwise, my weekly goal is to train three short sessions at home. I find lots of simple exercise programs on YouTube, from 20-30 minutes.
– It feels very good afterwards and does not take long!
What do you prefer to eat and drink in the morning at the moment?
– I like to start the day with a little extra green boost. I drink a large glass of lukewarm lemon water in the morning, and then I juice organic celery juice almost every day. One celery stick, just that – it has lots of health benefits. I feel it is good for the digestive system and for the skin, my sweetness also decreases as well.
– Then I wait two to three hours before I eat breakfast. I love a little sweet breakfast, and it varies a bit between carrot waffle from the cafe with lots of berries, almond butter and a little coconut yogurt, vegan coconut yogurt with berries, almond butter, apple pieces and granola. Or crispbread with banana slices, almond butter and berries.
– Yes, I really love breakfasts that are fresh, with fruit, berries and nut butter, says Smit.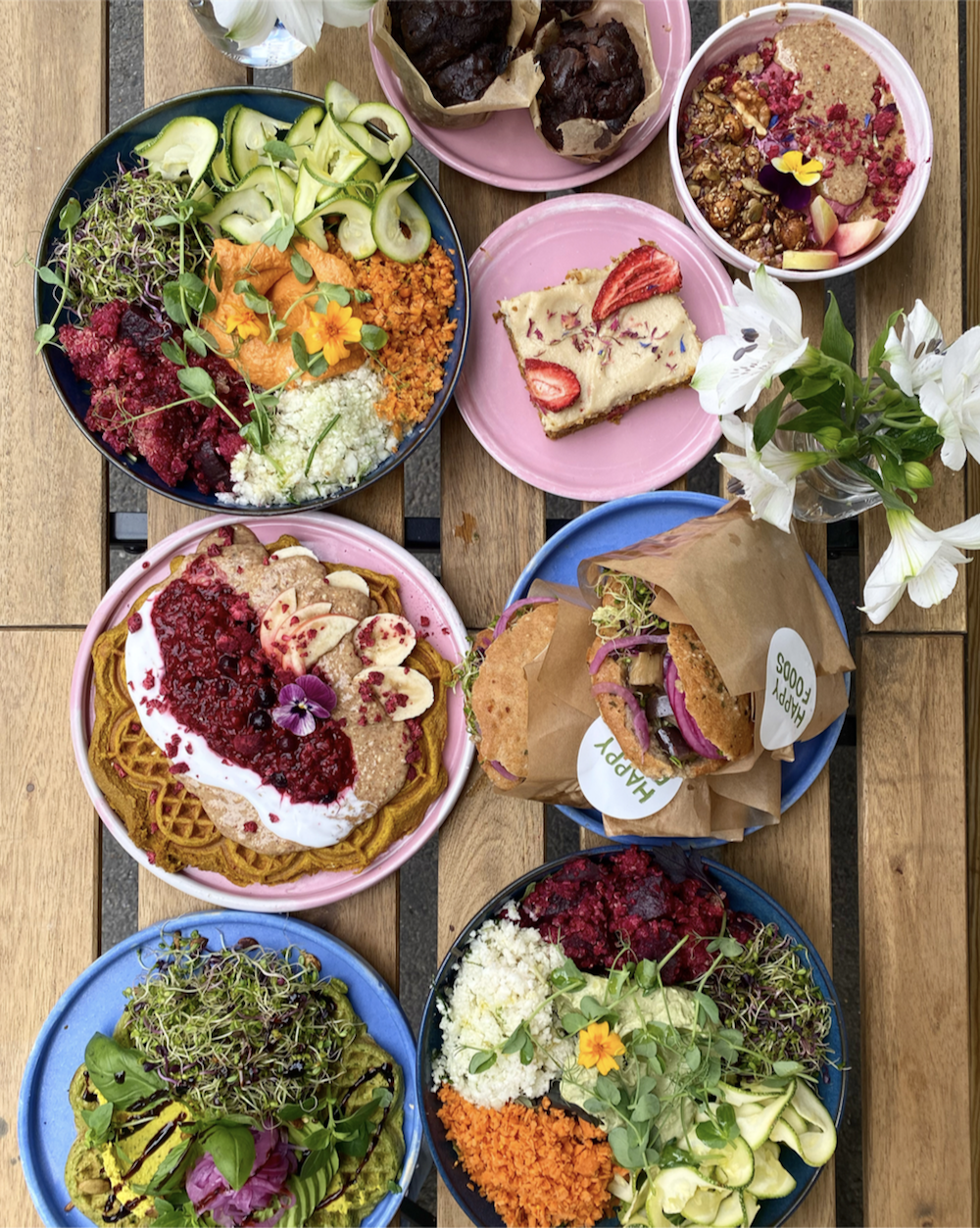 What are your best recipes for food and drink that give an energy boost?
– I'm a real food nerd and I actually make a living by serving fresh and colorful food that is good for you. My food philosophy is about eating clean food. Knowing where the food you eat comes from, using whole ingredients, cooking from scratch, choosing organic and using seasonal ingredients. Do not choose mass-produced foods with lots of e-substances even if it is labeled "gluten-free" or "vegan". This is often not a good thing. Shortest ingredient list is best.
There are lots of good and tasty foods you can make from few, clean and good ingredients. I have written a cookbook that is stuffed with colorful recipes.
– Making colorful salad bowls is a great tip. Then you can put in so much different. It satisfies well, tastes good, you get a lot of good nutrition and it is fun to cook when it is also nice to watch.
How to make a digg salad bowl:
Imagine that it should hold contain at least 3-4 colors. For example, green from spinach or broccoli, pink from beets, orange from sweet potatoes and red from peppers.
Always have a type of baked or fried vegetable, beans or falafel / vegetable bowl for an even fuller plate.
Make a tasty, filling dip based on either soaked cashews, chickpeas or sunflower seeds and a vegetable. You also need a good olive oil, lemon, herbs, spices and salt. There are so many good, plant-based dips you can make either in a food processor or blender.
Always have a good portion with different raw vegetables in the salad as well. Raw vegetables are super good for lots of nutrition and for crispy chewing resistance.
For an even more filling salad, you can add quinoa, roasted chickpeas, nuts or avocado.
– In the end, I always think the salad bowl is chopped better with a dab of sprouts on top, says Smit.
Radical Broccoli
Many people can probably recognize themselves in the fact that the energy is not at its peak during the winter months – what are their best tips?
– The first thing we want to remind you is that it is completely natural to have less energy in the winter, especially in cold regions. The whole nature goes into a den, so it is absolutely necessary and nice to take extra time to rest and feel free to sleep more, says sisters Anette and Susanne Bastviken, also known as Radical Broccoli.
– A good morning routine creates a good basis for the day. Taking the time to meditate and make a delicious breakfast and maybe say a few nice words to yourself and others makes the day start on a good note, and it most likely continues in that vibe. Maybe write down some words that we want the day to represent.
– We also both like to exercise or move in the morning, to wake up and replenish energy, say the sisters.
What do you prefer to eat and drink in the morning at the moment?
– It varies a bit according to the temperature and mood, but there is little that beats a good smoothie bowl with different frozen fruit, green leaves, spirulina and good topping. Otherwise it goes in oatmeal, fruit or some tempting slices of bread with good toppings.
– We also both drink a lot of water, preferably with lemon, to stay hydrated – which also provides energy!
What are their best recipes for food and drink that give an energy boost?
– We have an incredibly good chocolate shake from our book Jordnært, which consists of dates, cocoa, peanut butter and banana. It gives lots of energy and pleasure. We also eat a lot of homemade hummus, which is stuffed with proteins for good energy. It is really creamy, and suitable for both dinner and snacks. Last but not least, we have made a completely radical broccoli soup that is a favorite of all.
– Soup sounds boring, but when you first make it it is so delicious and warming for the body.
Recipe for Radical Broccoli's chocolate shake:
What do you need:
2-3 frozen bananas
2 medjool dates
1 tablespoon raw cocoa
1 tablespoon peanut butter
Water as needed
This is what you do:

Blend everything in a good blender and enjoy!
Recipe for hummus:
What do you need:
4 dl chickpeas (two boxes)
5 tbsp olive oil
1 teaspoon cumin
2 tbsp
1 tbsp lemon
This is what you do:
Mix all the ingredients with a food processor or a hand mixer. Serve with fresh herbs on top and some sesame seeds!
Recipe for broccoli soup:
What do you need:
1 broccoli
2 onions
1 clove of garlic
1 parsnip
4 small potatoes
2 carrots
1 handful of spinach
2 tsp salt
1 teaspoon pepper
1 tsp paprika
Water
This is what you do:
Cut garlic and onion into small pieces, fry in coconut oil until soft. Then cut the vegetables into cubes. Boil all the vegetables except the spinach for approx. 20 minutes. Add the spinach and season with spices before pouring off some of the water (take care of the water). Put the contents in a blender, use a food processor or hand mixer to blend it together until it becomes a smooth consistency. Add a little and a little of the water to the desired consistency.
– Soup tastes very good with a piece of hot bread with butter to!