It's starting to get autumnal, and then it's time to make good and warming soups. But it does not become a bit of a mess in everyday life when you are tired after a long day at work, you might think? You have to both peel and chop vegetables and clean-cut meat.
Here the freezer comes to the rescue.
Freeze soup
If you freeze soup, it is very quick to reheat it – just what you need in a busy day. Then just serve the soup with good bread and butter next to it, and you have a full meal.
At the bottom of this article you will find recipes for some of our best soups, but before we get that far, we'll give you some great advice on how to freeze soups.
Freezing tips
Put the soup in a plastic container with a lid. Tupperware is one type, and there are many others on the market as well. Do not fill the plastic jar completely, but leave 2-3 cm clearance up to the lid. The soup expands when it is frozen. Place plastic wrap on the surface of the soup. This prevents you from forming frost / ice crystals on top.
Never place a container of hot soup directly in the freezer. Then the temperature in the whole freezer rises, and we do not want any of that. Therefore, make sure that you let the soup come down to room temperature before you put it in the freezer, for example by leaving the soup on the kitchen counter.
If you think this is too slow, you can put the container in a water bath with ice cubes.
So which soups are suitable for freezing?
Clear soups based on meat and / or vegetables, just freeze as they are. Soups that have been pureed in a blender or with a hand mixer are also good to freeze. They may lose some of their smooth consistency, but then just fry the soup again when you heat it up. Soups based on beans and lentils are also freezer-friendly.
Most soups can withstand three months in the freezer, and the most freezer-friendly, as we have mentioned above, can withstand up to half a year.
Smart tricks for the difficult soups
However, there are some soups where it is wise to take some precautions before freezing them. Here are some tips to help you get around the problem.
In soups with diced vegetables, you may want to not cook them too hard in the first place. Remember that they get an extra round of heat treatment when you heat up the soup. This especially applies to diced potatoes, which can quickly dissolve and make the soup mushy in consistency.
Creamy soups are also problematic, as they can easily separate or have a slightly grainy consistency. Therefore, make sure that you do not have cream, sour cream, crème fraîche or yoghurt in the soup before freezing it. Rather have them up when you reheat the soup.
But what about coconut milk? Opinions are divided here. Some say that this is perfectly fine to freeze, while others believe that the soup has a slightly grainy consistency. Here it's just a matter of trying.
Food and soup
Fish and shellfish in soups can get a slightly awkward aftertaste when you heat up the soup. Therefore, make sure you have the seafood in the soup only when you reheat it. It only takes a few minutes to get it warm.
Soups with pasta you should avoid freezing. This is because the pasta quickly becomes quite mushy. Instead, boil the pasta while you heat up the soup, and then you have the pasta in the soup.
It's good with herbs in the soup. Relatively delicious herbs such as basil and parsley should only be added to the soup when you heat it up. More robust herbs, such as rosemary, sage and thyme, withstand freezing better.
Soups that are smoothed with cornstarch or eggs should not be frozen, as they can have a slightly awkward consistency when heated. Instead, add eggs and cornstarch when you heat up the soup.
Finally, something that almost speaks for itself: Do not freeze soup with garnishes such as taco chips, grated cheese, pesto, hard-boiled eggs or the like. You have this on until the very end when the soup is heated and is to be served.
Tips when heating
When you heat the soup, it must first be thawed. There are several ways to do this, where perhaps the best is to do it in the fridge overnight, or while you are at work. If you are in a hurry, you can run the soup in the microwave. Most micros have their own defrost function that you can use.
You can finish the soup in the microwave, otherwise use a saucepan with a lid on the stove over moderate heat. If you are afraid that the soup will burn, you can rather heat it up by putting the whole saucepan in the oven with the lid on.
Find the thermos
Soup is good for lunch, dinner and dinner. But you can also find the thermos and fill it up and take soup with you on a trip. It is delicious with a cup of hot soup out in the woods and fields in the sharp autumn air. You can also send soup in a thermos with the kids at school, and they will get a welcome break from the packed lunch.
Below you will find recipes for some of our best soups. If you follow the precautions we have outlined above, you can definitely freeze these as well.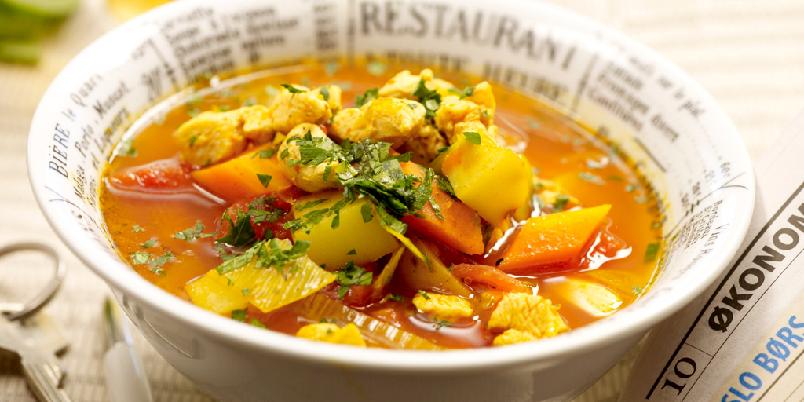 Kim Holthe
If you do not have time to cook chicken, you can use chicken and chicken broth. Let the chicken soak in the soup until it is cooked through.
See the full recipe
1 hen, boiled
1.5 l Power
0.5 pcs Orange
4 pcs Potatoes
2 pcs Carrot
0.5 pcs Leek
1 onion
0.5 pcs Fennel
2 cloves Garlic
0.5 tsp Turmeric
2 tbsp Basil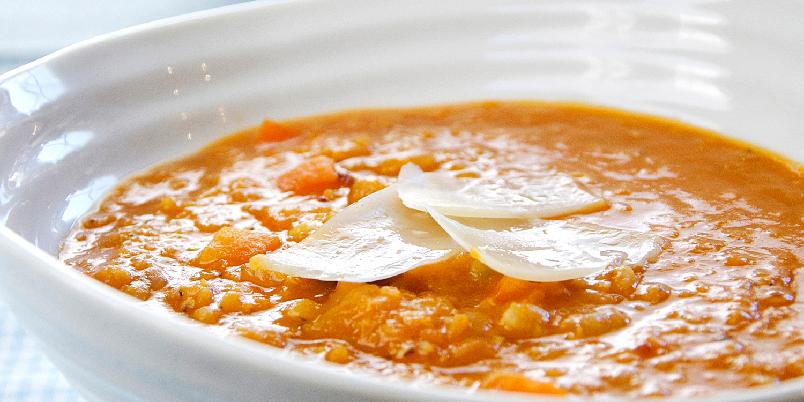 100 g Bacon
1 onion
3 pcs Garlic
Salt and pepper
3 pcs Carrots
2 tbsp tomato puree
250 g Lentils
5 dl Chicken Broth
8 dl Water
1 tablespoon red wine vinegar
Parmesan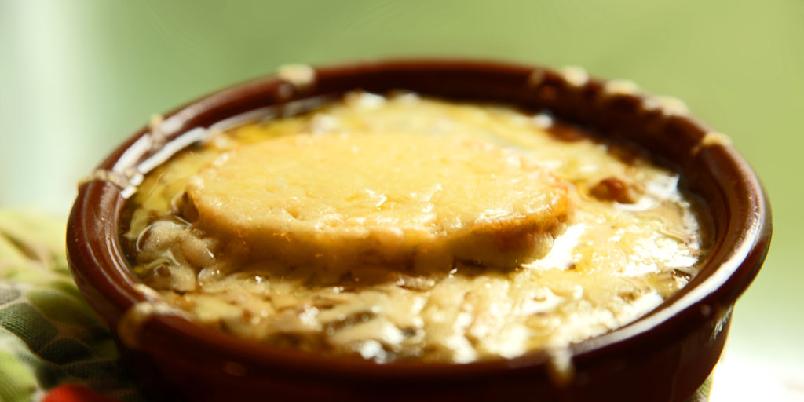 Erik Hannemann
How to make super onion soup. Not easy anymore! You will not find better onion soup than this.
See the full recipe
6 onions
1 dl Madeira
1.5 l Water
pcs Broth cube
100 g Ost
25 g Parmesan
2 loff discs
Salt and pepper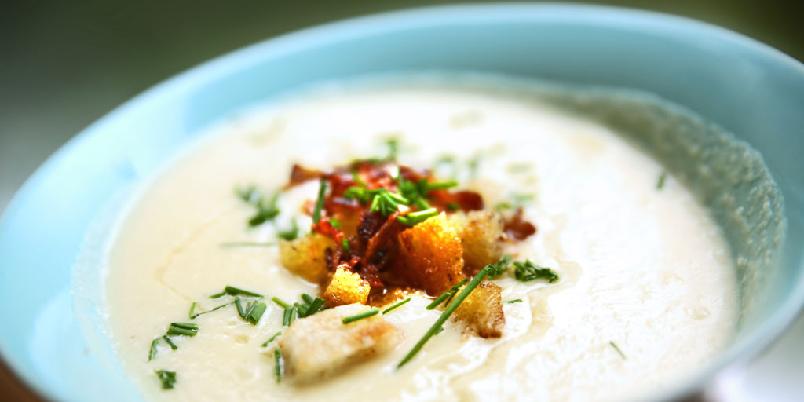 Erik Hannemann
1 onion
2 cauliflowers
2 dl Cream
5 slices of Bacon
3 slices Loff
Salt and freshly ground pepper
1 tsp Nutmeg
1 tablespoon Chives
Olive oil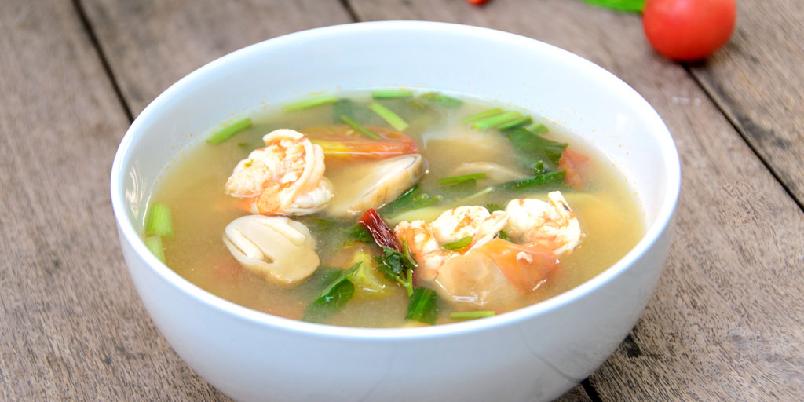 Colourbox (illustration photo)
600 g Scampi
1.5 l Water
1 tsp Salt
6 bl Kafferlime
2 lemongrass
50 g Mushrooms
2 tbsp Fish sauce
2 pcs Lime
2 tassels Coriander
2 Chile
.