At irregular intervals, we let eager bloggers drop in here at Click. Jane H. Johansen is a vegan – that is, a vegetarian who does not eat eggs, dairy products or anything else of animal origin.
She writes the blog Veganmisjonen where all the world's delicacies roll out. And there are gorgeous pictures too!
Jane has previously served us salt-baked beets and Christmas roasts for vegans.
Lentil soup is on the menu this time:
What is the first thing you think of if I ask you what veggies eat?
Facts about Jane
Food enthusiast, food writer and cookbook author with food as a passion and hobby.
Runs the food blog VeganMisjonen with the goal of inspiring most people to a greener diet.
Vegetarian for the last 17 years, vegan since 2009.
I do not think I am completely wrong when I say that besides vegetables, "beans and lentils" are associations that appear in most people. I'm probably not completely on the ground either when I assume that for many Norwegians, beans and lentils are a foreign ingredient in cooking. That was it for me once too …
When I became a vegetarian, lentil soup was one of the first things I tried to make, with varying degrees of success in the beginning, I must admit. Lentils were a whole new food for me. It was never on the menu at home when I was growing up. I had never tasted a single lentil before I turned 20 and the only beans I had lit were red kidney beans that my mother put in the salad when she was in the playful corner.
Things are changing. Today, lentils and beans are a natural part of my daily diet. I do not think a day goes by without me eating them in some form. Luckily! Because there is actually a lot of goodies you can make from these small dried legumes. And today we are talking about lentil soup!
I have improvised countless varieties of lentil soup up through, but I must say I have one favorite that I make over and over again. Here it comes: A wonderfully rich and filling lentil soup, full of hot spices and with a beautiful yellow-orange color. On chilly days, there is nothing more beneficial than a big bowl of this!
Relieving lentil soup is as simple as it is good, and it does not cost a lot of money or time to make a large pot that can be shared by many. All you need are carrots, celery sticks, onions, red lentils, water and spices. Double or triple the recipe and invite friends to a soothing soup experience!
Maybe you are one of those who have never made anything with lenses before. Maybe you are well versed in lens land. Either way, you should try this one!
The recipe can be found below.
If you get a complete craze for lentil soup, we have 11 other suggestions here …
Bring everything with you! Follow Click Food on Facebook.
Do you want good recipes in your mailbox every Friday? Click here.
Also read:
Pancakes with a new top
How to bake salmon in the oven
How to make perfect muffins
Oreo cake is good this way
Here you can search among 4000 recipes!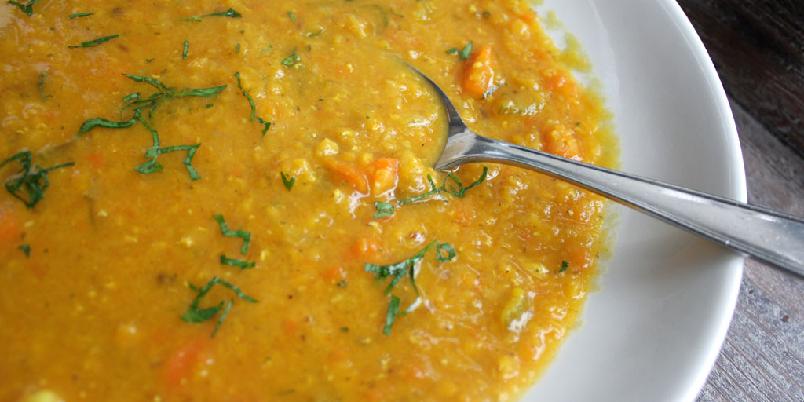 TV 2 © Good morning Norway
1 onion, finely chopped
2 krm Spisskum
2 krm Coriander seeds
2 cloves Garlic
2 pcs Carrots
2 celery sticks
1 l Water
2.5 dl Lentils, red
1 cream Chili powder
1 tsp Spisskum, malt
1 teaspoon paprika powder
1 tsp Turmeric
1 pc Laurel leaf
3 tablespoons Vegetable Broth
Salt
This case was first published 10/01 2012, and last updated 26/06 2017
.