Soup is a quick and healthy dinner on hectic weekdays, according to nutritionist Kari H. Bugge.
It can be made so that it saturates well and is easy to vary. Soup is also good for lunch and dinner. Serve it with coarse rolls or good bread.
Fast and healthy
– Homemade soups are full of vitamins, minerals, fiber and other things that your body needs to replenish, according to Bugge.
A tasty soup is also a good choice if you are going to cook for many people.
Feel free to use frozen vegetables in the soup. They are both nutritious, practical and easy to have available.
– If you make soup with broth or kraft, clean-cut meat, chicken or fish and fill it with lots of vegetables, you will be both hot and full, but without getting too many calories.
Sprinkle with fresh herbs such as basil, thyme and parsley before serving. It gives extra good taste to the soup.
Soups as diet food
The soup diet slows you down to two to three kilos a week
You should be careful with this regimen.
Soup is a low-calorie food that satisfies well, and as part of your daily diet it will reduce your total calorie intake. But do not eat soup every day, for a long time. The so-called "Rikshospitalets soup cure" gives a good start to the diet, but you should not follow it for more than a week.
– It can give fast results, you do not have to feel hungry, and you can vary the taste experiences. The advantage of this cure is that it works well on the two to three extra kilos, says Gunn Helene Arsky.
Losing two to three kilos in a week can be a motivating start, but the nutritionist points out the disadvantages of such a uniform diet:
– The soup cure probably has no lasting effect, and you risk losing more muscle mass than is good. Remember that the metabolism goes down in step with the muscle mass.
Thus, you risk putting on more fat after finishing the treatment, because the metabolism is then lower than it was.
– It is mostly water that disappears, points out doctor and diet expert Sofie Hexeberg.
3 kilos lighter in a week
The soup cure is harmless and effective.
Potato and onion
Potatoes and onions taste good in soup.
Potatoes smooth the soup so that it has a good consistency, while onions and leeks create a fuller taste. Celery root, parsnip and parsley root are tasty root vegetables that are well suited as a base in vegetable soups.
All the following recipes are used with permission from Grete Roede AS. The low calorie content makes the food perfect for fasting days in the 5: 2 diet, if you follow it:
Leek soup with chicken
250 kcal pr. portion
4 servings
1 l of water
1-2 cubes of chicken broth
2 leeks
4 potatoes
½ ts coarsely ground pepper
3 chicken fillets
S ss olive oil
1 teaspoon dried basil
1 tsp salt
½ ts pepper
about. 4 tablespoons bread croutons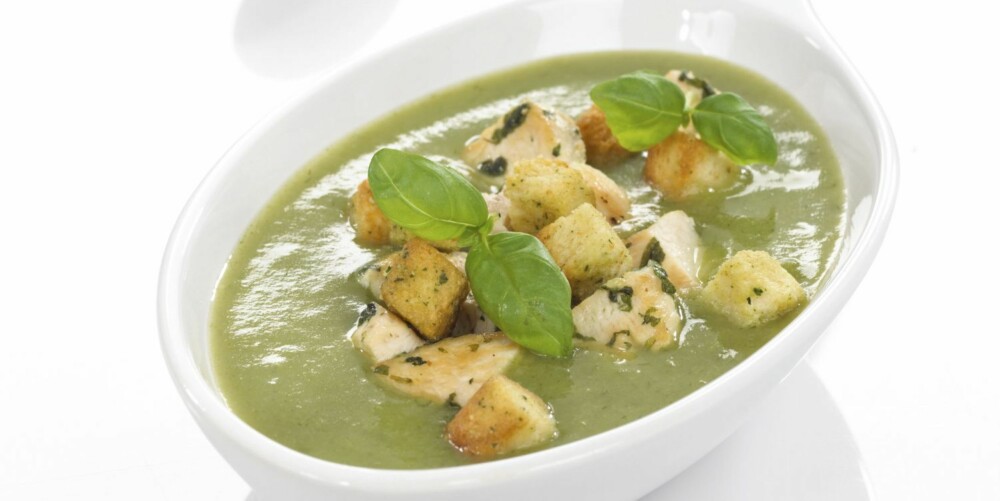 Peel a squash, grate it and cut it into small pieces. Make a cut along the leek and rinse well. Boil water with broth and add the vegetables. Let it cook for approx. 10 minutes until potatoes are tender.
Low carb for beginners
We're asking the stupid questions, so you do not have to.
Cut the chicken fillets into strips and sprinkle with basil, salt and pepper. Fry the chicken strips in oil over medium-high heat.
Pour the power from the vegetables into a liter measure / bowl and run the vegetables with a hand mixer. Pour the power into the saucepan with the mashed vegetables and dilute the soup until it is thick enough. Season with pepper and possibly a little salt.
Serve the soup with shredded chicken and croutons.
Tomato soup
200 kcal pr. portion
4 servings
2 onions
1 tbsp olive oil
½ ts thyme
2 tablespoons parsley
2 tbsp basil
1 l of water
2 cubes vegetable broth
2 cans of canned tomatoes
½ ts salt
¼ ts pepper
200 g cooked wholemeal pasta
200 g shredded ham
Finely chop the onion and lightly fry it in the frying pan with oil. Add thyme, chopped parsley and basil. Stir for a few minutes. Add water, broth and chopped canned tomatoes and bring to the boil.
Mash the soup with a hand mixer so that you get a smooth and rich soup.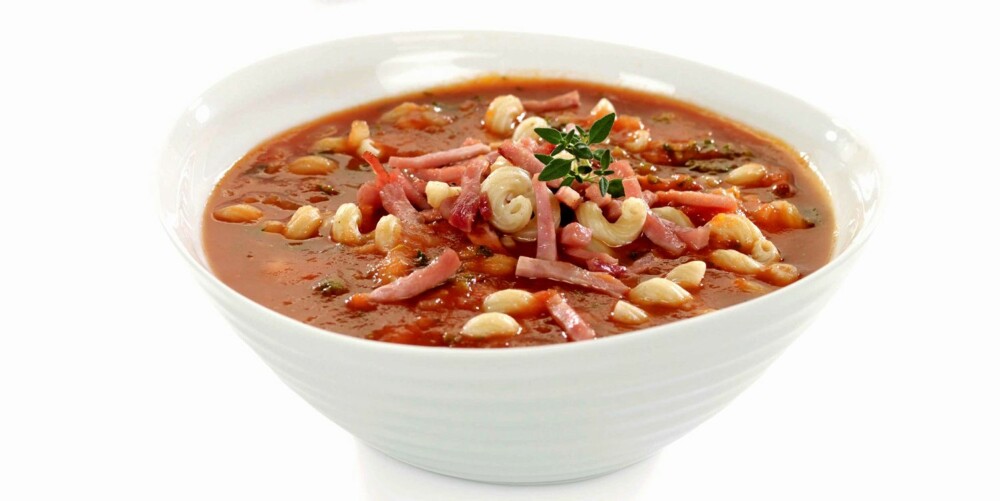 Season with salt and pepper.
You should have this in the fridge
Lose weight? Fill the fridge with good habits.
Add cooked pasta and shredded ham towards the end.
Serve with coarse rolls.
Cauliflower soup
235 kcal pr. portion
4 servings
1 cauliflower head
1 l skim milk
2 dl lett crème fraîche
1 tsp salt
100 g smoked salmon strips
4 tablespoons finely chopped fresh herbs
Clean and cut the cauliflower into large pieces. Boil milk gently in a saucepan. Be careful not to get stuck in the bottom. Add the cauliflower and let it cook for approx. 15 minutes, preferably under a lid. Run the soup smoothly with a hand mixer or food processor.
Stir in crème fraîche and season with salt. Cut the salmon into thin slices and place on top of the soup when serving with chopped herbs. Serve the soup with good bread.
Carrot and ginger soup
105 kcal pr. portion
4 servings
5 cm fresh ginger
1 onion
1-2 cloves garlic
6 carrots
2 potatoes
2 stalks celery
1 tbsp oil
1 liter of vegetable broth
1 tbsp lemon juice
½ ts salt
¼ ts freshly ground pepper
fresh coriander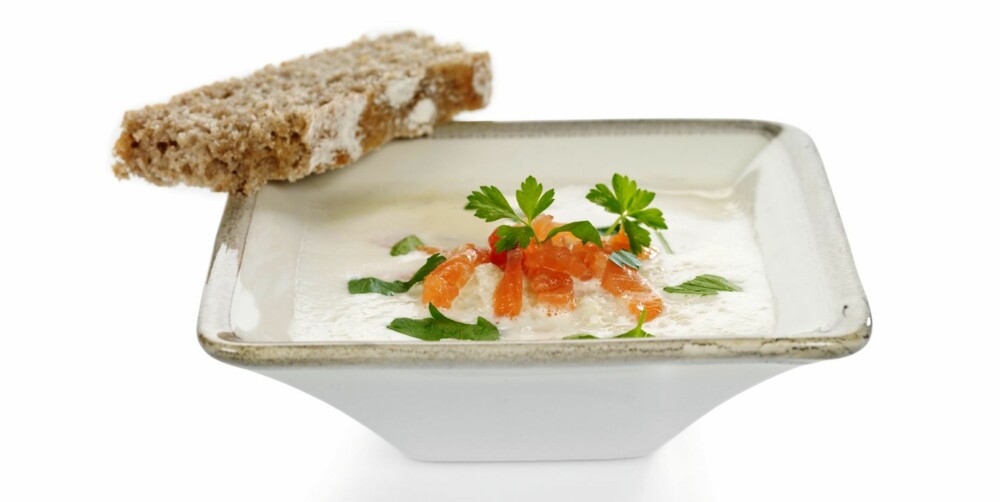 Finely grate the ginger, coarsely chop the onion and finely chop the garlic, divide the carrots, potatoes and celery into pieces.
This makes the finished food healthy
Simple steps make ready-made food health bombs.
Fry onion and garlic in oil in a frying pan until everything is soft.
Add carrots, potatoes and celery and cook for a few minutes. Add water and broth powder, lemon juice and ginger and bring to the boil.
Let it simmer until the vegetables are soft. Mash everything in a blender or food processor to a smooth consistency.
Season with salt and freshly ground pepper. Garnish with chopped fresh coriander and carrot strips.
Vegetable soup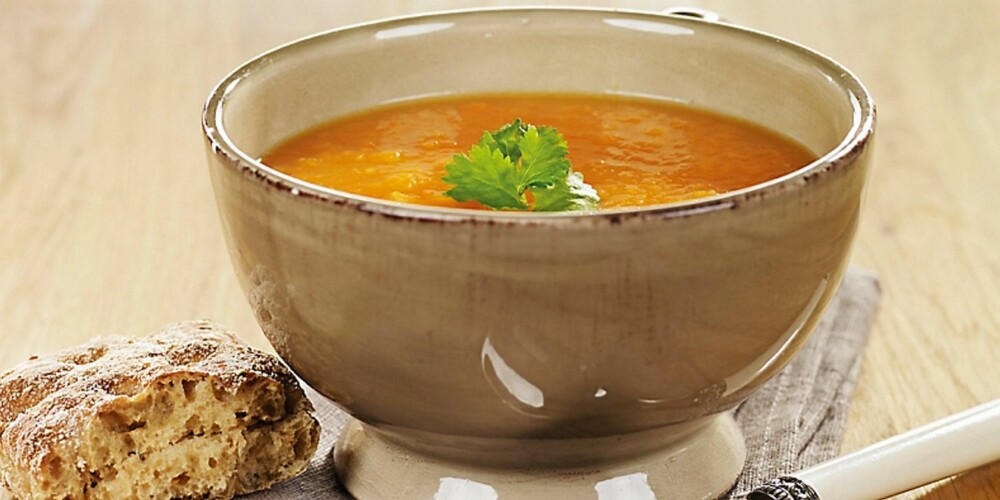 160 kcal pr. portion
4 servings
100 g barley groats, soaked
2 onions
250 g carrots
1 parsley root
250 g turnip
½ purre
1 celery stick
2 cubes vegetable broth
1 vann l water
2 tablespoons parsley
½ ts salt
¼ ts pepper
Five healthy dinners in under 30 minutes
Pizza and burger that is good for the body.
Boil barley groats as directed on the package. Cut onions, carrots, parsley root and turnip into cubes. Slice the leeks and celery.
Put the vegetables in a saucepan with water and broth. Let everything simmer for approx. 20 minutes until the vegetables are tender. Add cooked barley.
Season with salt and pepper. Sprinkle with finely chopped parsley before serving.
Served with wholemeal bread.
More food in the soup!
If you want a more filling soup, it can be good to serve some extra accessories next to it. You can choose to have it in the soup or not. Try fried shredded pork, beef, chicken, turkey or diced fish. Bread croutons, bacon, boiled ham, corn, boiled vegetables and grated cheese are also good in the soup. If you want a fuller soup, you can add whipped cream or kesam. Remember that the soup must not boil after you have added kesam, because then it will separate.
Simple puree soups
It is very easy to prepare puree soups. The main principle is to cut vegetables and potatoes into large pieces and cook them tender in a good broth. When the vegetables are cooked tender, mash them with a hand mixer so that the soup has an even and fine consistency. This takes no more than approx. 15 minutes to make!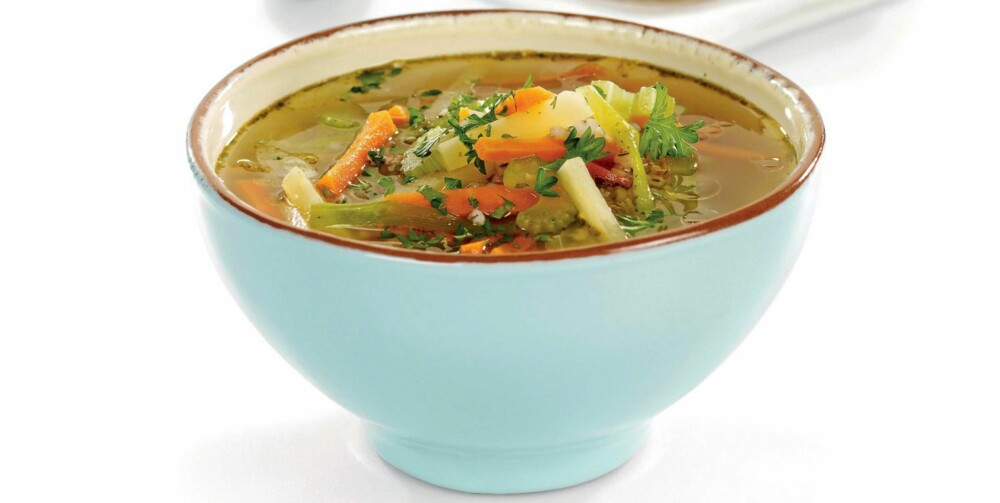 Click here and follow Click Health on Facebook
Great test of tomato soups
We have tested 17 tomato soups. See which ones are healthiest.
More than 1/4 of the dish is sugar
BIG TEST: See which breakfast cereal gets a roll of the dice six.
We have tested 30 ham spreads
See which is healthiest.
Sign up for our newsletter and receive weekly updates by email
Also read:
Check your BMI with our BMI calculator
Therefore, you should measure your waist in addition to your BMI
Eat free from stress fat
The 5 worst diets
Therefore, you do not lose weight
The healthiest ice creams are made with cream
The healthiest ice cream may not be what you thought.
Cheap minced meat gets six dice
BIG TEST: The fat content varies from 10 to 18 percent.
As long as you have to go on a trip to burn a Quick Lunch
We have checked the calorie content of 21 chocolates.
This case was first published 27/08 2012, and last updated 24/06 2017
.