Are you ready for a healthy and light dinner?
Here are recipes for weekdays until New Year's Eve.
Try a steaming hot risotto with mushrooms
The good tricks that give the most taste.
12 quick soups and stews
Good, homemade dinner in no time.
The best baking recipes
Do you have flour? Then we're off!
Three things that go faster than ready-made pizza
In a hurry? Here are three quick recipes.
The Spaniards have a lot to show: They want to show off the hams, the tortilla (how to make the Spanish omelette), the national dish paella (not hard to make …), the surprising almond soup, how good they are in football and how tough they are at the bullring.
We who like the sunny peninsula know that this is just the beginning. Ham, tortilla and paella are just the first things you encounter. Then the tapas begin. This fireworks of small, delicious mouthfuls is a concept that creates enthusiasm in all food lovers (here you will find the tapas recipes).
The secret of tapas
It was just such a meal we were invited to. But first we had to have a beer at the beach bar. And you know; then there will also be a small tapa.
(Why is there no one in Norway who serves tiny pieces of food for the beer? Do you not think people like it?)
What came was in all its beautiful simplicity this: Potatoes, tuna, sugar peas mixed with aioli. And even though I knew all too well that 50-60 tapas were waiting in a little over an hour, I could not stop.
That's the secret of tapas: It's that simple. And so good.
Requires little
It does not take much to make this tapas. The aioli, garlic mayonnaise, is best if you make it yourself. You can buy ready-made aioli or take the shortcut where you crush garlic and mix with finished mayonnaise (it works, but is not close to the original).
The recipe can be found below!
Bring everything with you! Follow Sjuve on Facebook
Also read:
Less hassle: Ten food tips that make life easier
How to make the perfect pizza base
This is the world's most important vegetable
Cooking: Avoid the most common mistakes
Here you can search among 4000 recipes!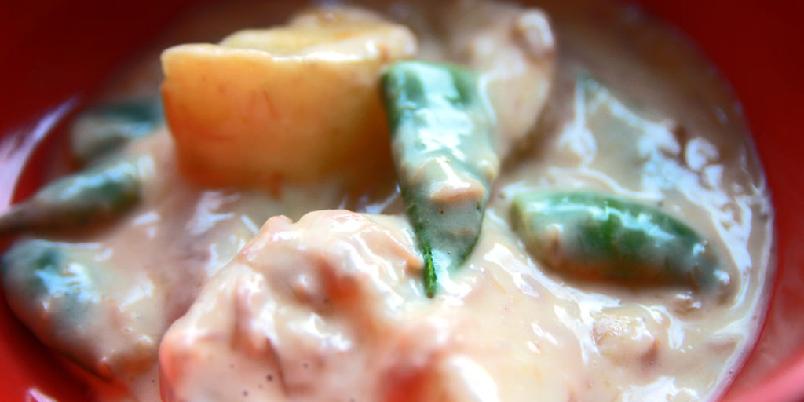 Erik Hannemann
1 box Tuna
4 tbsp Aioli
5 pcs Sugar peas
2 pcs Potatoes
Salt and pepper
This case was first published 02/11 2010, and last updated 26/06 2017
.