Here we give you the recipes for tasty and healthy soups that help you lose up to three kilos in a week.
The soup cure is not something you should live on in the long run, but it works well for you who need a little starting help.
So remember – this soup regimen should only be used for seven days.
Dieting with fast results
– The advantage of this cure is that it works well on the two to three extra kilos, says nutritional physiologist Gunn Helene Arsky.
The diet has been christened "Rikshospitalet's soup cure", and is not unknown to those who want to lose weight fast.
Also read: No, you have not gained two kilos in one day
But do not take the name too seriously – the hospital of the same name does not necessarily support the cure.
– It can give fast results, you do not have to feel hungry, and you can vary the taste experiences, says Arsky.
Remember this if you are on the soup diet:
Do not drink carbonated beverages or alcohol.
Do not eat bread
Drink plenty of water, 6-8 glasses a day
Drink coffee and tea without sugar
Yes to cranberry juice and skim milk.
Lose up to three kilos in a week
Losing two to three kilos in a week can be a motivating start, but the nutritionist points out the disadvantages of such a uniform diet.
– The soup diet has no lasting effect, and you risk losing more muscle mass than good. Remember that the metabolism goes down in step with the muscle mass.
In addition, most of what you want to lose is water weight, which you go up again when you start eating normally.
Low combustion
You risk putting on more fat after finishing the treatment, because the metabolism is lower than it was.
– It is mostly water that disappears, emphasizes doctor and diet expert Sofie Hexeberg.
– A good strategy for lasting weight loss is to become a "fat burner". Then you have to reduce the carbohydrates significantly, ie sugar, bread, rice, pasta and potatoes, and eat more fat and protein, she says.
But you are guaranteed to get into a belt notch or two, if you manage a soup week.
Also read: Nine simple breakfasts under 350 calories
May increase fat burning
Hexeberg has some recommendations for increasing fat burning.
– Use herbs such as chili and cayenne, mustard, garlic and ginger. Drink green tea. Fish fat is beneficial, so eat fish or take a dietary supplement.
She also recommends drinking a cup of coffee an hour before exercising. Caffeine causes fat to be released into the bloodstream so that exercise can burn it.
In addition, you may want to eat breakfast, and keep your metabolism going with several small meals throughout the day, instead of few and large meals.
The time after the soup cure
Weekly schedule
Day 1: Soup and all kinds of fruit except banana.
Day 2: Soup and vegetables, raw or cooked. Not peas, corn and dry beans.
Day 3: Soup, fruits and vegetables. Not banana and potatoes.
Day 4: Soup and at least three bananas. As much skim milk as you can handle.
Day 5: Soup, 280-560 g beef / chicken / fish and 4 tomatoes.
Day 6: Soup and lots of beef / chicken / fish and vegetables.
Day 7: Soup, vegetables, brown rice and unsweetened juice. Beef, chicken without skin or grilled fish.
When the cure is over, it is wise to think long term. Be physically active for at least 30 minutes every day. Exercise increases your metabolism and muscle mass, and you get a double effect.
Continue to eat lots of fruits and vegetables, preferably twice as much as you used to before the treatment.
Use clean fillets of fish, meat and chicken instead of sausages and minced meat.
Drink plenty of water.
Choose the coarsest possible bread, with a low content of carbohydrates and a high content of dietary fiber. Eat one slice less than usual. Eat some unsalted nuts as snacks instead of chips, chocolate and sweets.
Below you will find recipes for which soups are best suited for this cure.
Cauliflower soup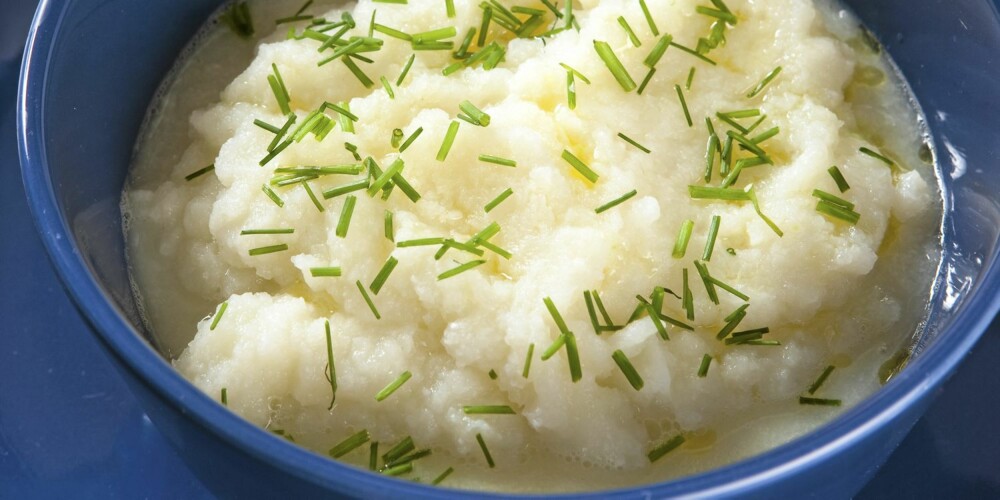 The fullness gets it from the cauliflower itself, here is neither cream nor cheese. A delicious appetizer or warm evening snack, signed by nutritionist Gunn Helene Arsky, taken from her book "Eat young".
1 l of water
2 tsp salt
bouquets and leaves of a cauliflower head (discard the coarse stem)
2-3 tablespoons unsalted butter
olive oil
chives
Boil water and salt. Add the cauliflower bouquets and leaves and cook until tender, approx. 4 min. Lift the cauliflower out of the pot with a slotted spoon and into a bowl. Save on boiling water.
Work in portions: Fill a blender halfway up with cauliflower, and add boiling water so that it reaches about a quarter way up. Run to a smooth puree and season with more salt and butter to taste.
Continue with the next round and mix it all well in the end. Serve immediately in hot bowls. Drizzle a little olive oil over the soup and cover with chopped chives.
Noodle soup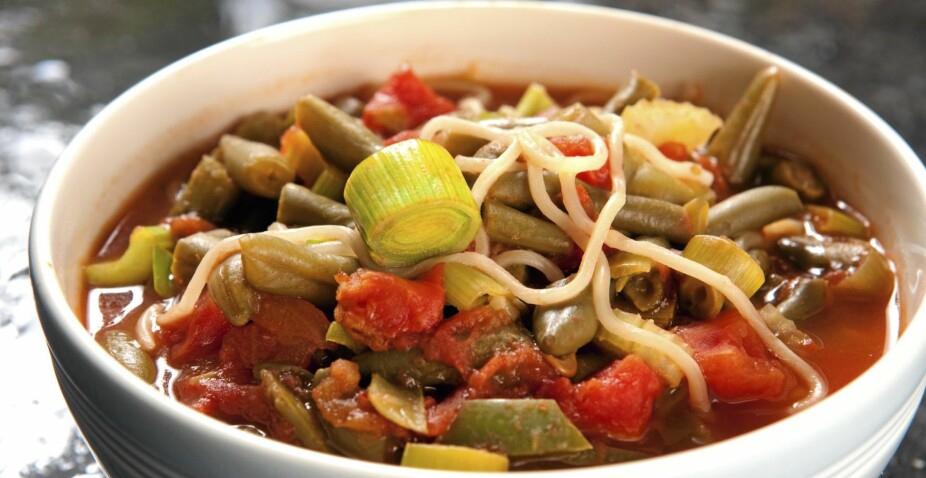 Lots of vitamins and flavor, minimal calories. You can eat this soup as much as you can.
2 cans of canned tomatoes
3 large leeks or onions
1 pk. noodle
1 bunch of celery sticks
2 boxes of green beans, e.g. break beans
2 green peppers
4 carrots
2 l finished chicken or meat broth
Cut up the vegetables, put them in a saucepan with the tomatoes and broth.
Cook under a lid until everything is tender. This portion lasts a long time. If necessary, make more.
Vegetable soups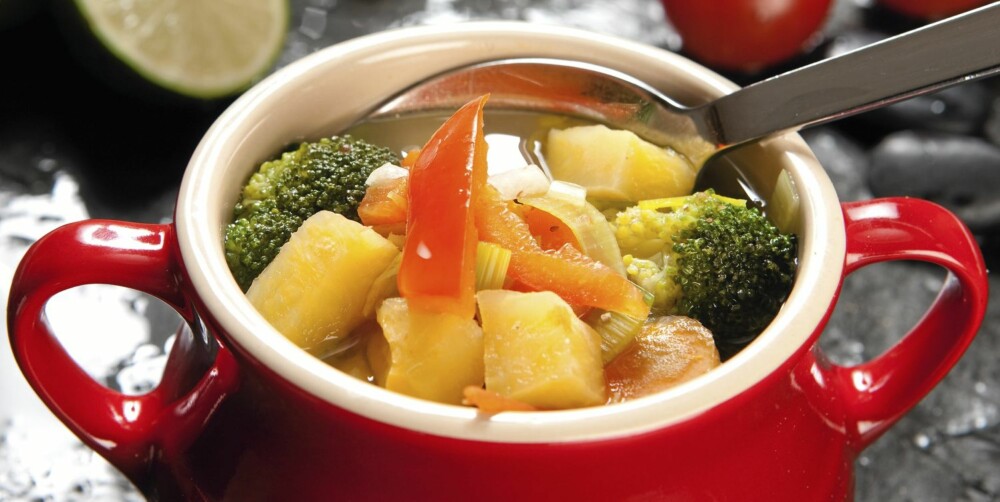 These three soups can be combined with the other soups, and can be eaten several times a day.
The first is a fat-burning soup signed by British doctor Caroline Shreeve.
Vegetable soup 1
2 l of water
2 cubes chicken broth
2 bundles of spring onions or 1 large onion or leek
1 medium cauliflower or 1 large broccoli
125 g spinach or cabbage head
1 large pepper
6-8 celery stalks
2-4 large carrots
1-2 teaspoons cumin and coriander
1 lemon or lime
1 handful of chopped coriander leaves or parsley
2 garlic cloves
½ ts cayenne pepper
4-5 large, ripe tomatoes divided into boats
Wash and divide all the vegetables. Cook everything except the tomatoes until tender. Add the tomatoes for the last 5-10 minutes.
Vegetable soup 2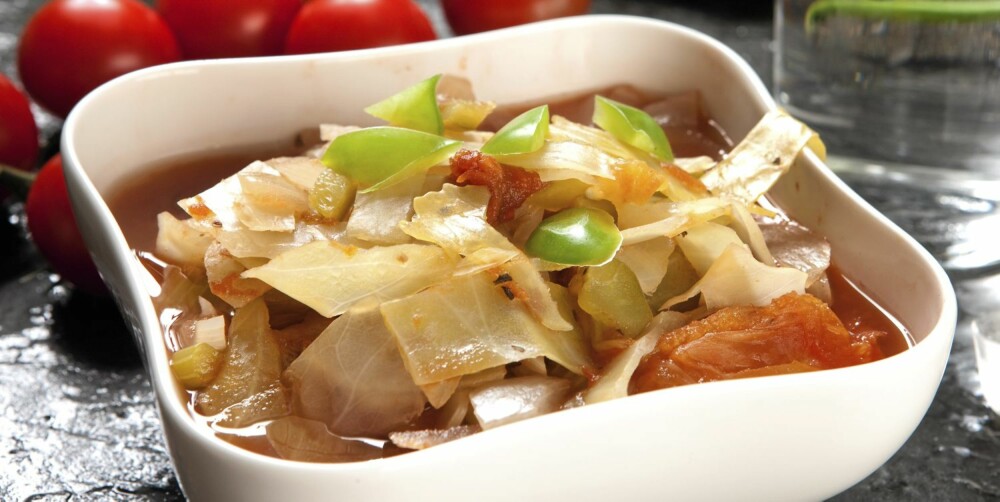 2-3 l of water
1-2 cans of tomato
2 green peppers
3 onions
1 large cabbage
100 g celery root
2 bouillon cubes
herbs and spices
Wash and divide all the vegetables into smaller pieces. Boil everything tender except the tomatoes, they should be in the last 5 min.
Vegetable soup 3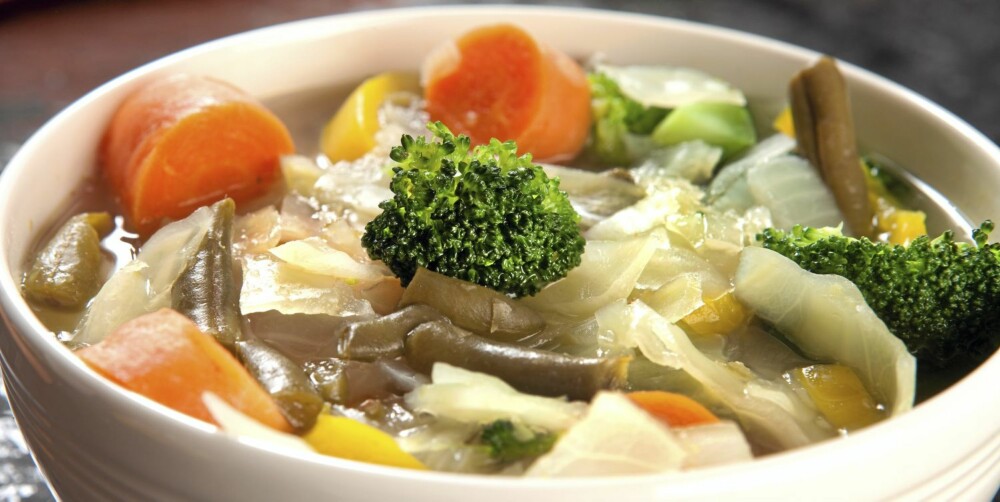 1-1½ l won
2 cubes chicken broth
2 onions
Ål cabbage
2 boxes of broad beans
1 yellow pepper
1 bundle of broccoli
5-6 carrots
Wash and divide the vegetables into smaller pieces. Put everything in a saucepan and add broth and water. Cook everything tender.
This case was first published 03/01 2014, and last updated 12/01 2022
.