Stavanger's first and only restaurant with only vegan food on the menu, Bellies, was awarded the Food Culture Prize this weekend.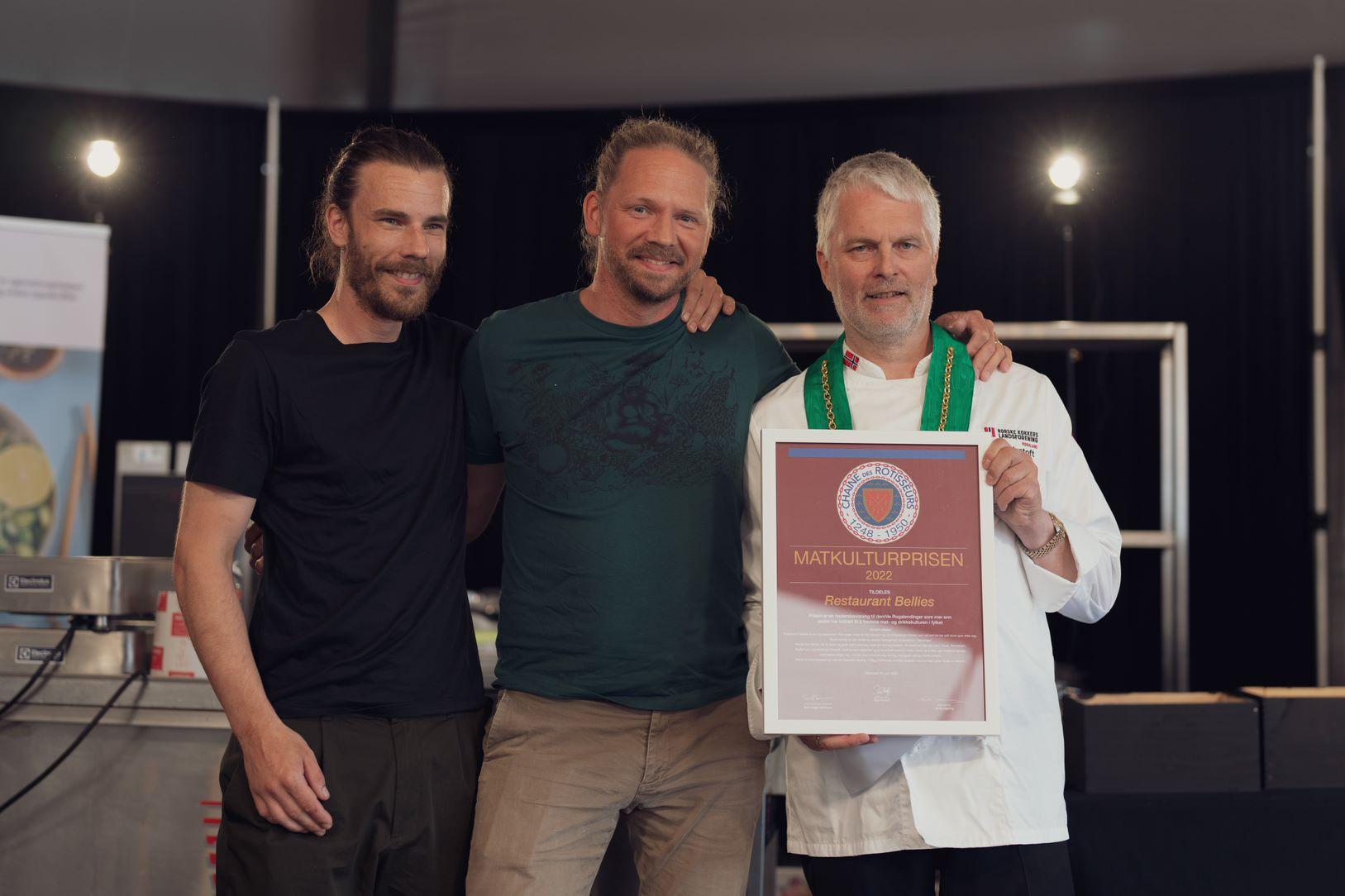 The prize is awarded by the Chaine des Rotisseurs Bailliage de Rogaland and the Norwegian Chefs' National Association in Rogaland. The distribution takes place under Gladmat.
The award is a tribute to Rogalanders who, more than others, have contributed to promoting food and drink culture in the county.
Aftenbladet's food reviewer Arild I. Olson was at Bellies in 2020. Read the review here:
This is what the jury says in its reasoning:
«Winner of this year's Matkulturpris is a young restaurant in Stavanger, with a great location and an inviting interior, which in a short time has left its mark.
With a great deal of creativity and a pure concept in time, they manage to lift up modern trends, with sustainable choices in relation to a climate-friendly direction, towards good goals and smaller footprints.
The food is seasonal, and the menu is adapted to the season. The restaurant also has a strong and good team with it, both on the food and wine side.
The restaurant is also the first and only Hellvegan restaurant in Stavanger.
This year's winner of the Food Culture Award describes himself as "Fresh, Fermented, Firewood and Passionately cooked".
– It was great to receive such an honorary award from food enthusiasts, and we will promise to continue working with food culture, says general manager Øystein Lunde Ohna, and adds:
– It was Gladmat and we had full service here at the house. It was wonderful to walk through Gladmat town and receive the award of cheers from the tent.
He says it means a lot to the restaurant.
– They said nice words about us, and it's warm. There are many other great players and people who have won that award before us, and we feel very seen, he says.
also read
For the third year in a row, the result is negative for Bellies AS
Gladmat prices
On Saturday afternoon, the winners of both the Gladmat Prizes and the Gladmat scholarship for the year were chosen. – Everyone has a passion, this is ours, said general manager of restaurant K2, Elisabeth Kress.
On Gladmaten's last day, winners of this year's prizes and scholarships were chosen. This year, the level has been sky high, according to the Gladmat jury, which after much discussion has finally arrived at the worthy winners.
The prizes were awarded in the new tent area Kokepunktet at 2 pm. The jury consisted of Maggi Gausel, Elin Rusnes Kvingedal, Kristian Ebbesen Fjelde, Gulmira Ahmedova and leader Olav Birkeland. Gausel and Ahmedova are participating for the first time this year, while the rest have between three and nine years of experience.
This year's Gladmat dish
The winner of this year's Gladmat dish was Spiseriet. They received the prize for their Sterling halibut with nettle from Brimse, peas, horseradish and fried sourdough.
– The restaurant has impressed an entire festival with a delicious and thoughtful dish. Perfect balance, ingredients with distinct flavors that play together into a great whole and delicious contrasts, says the jury.
The criteria were, among other things, good taste combinations, that the dish is perceived as special and that the ingredients are local. The other nominees in the category were Fisketorget, Déjà Vu, Fish & Cow and Matlauget.
Spiseriet's Gladmat dish also got sixes on the dice in Aftenbladet's big test.
– This is bullshit. And an oasis in the festival chaos, said reviewer Harald Birkevold about the court.
These received the Gladmat scholarship 2022
During Gladmat's last day, the Gladmat scholarship 2022 was also awarded to two actors Inge Steensland Stiftelse believes has stood out positively. It was Restaurant K2 and Håland Kjøtt who were honored with a scholarship of 30,000 kroner each.
Restaurant K2 has been open for almost two years when they received the award today.
– It means a lot, it is a confirmation that we are doing something good, after so much work, says general manager of the restaurant Elisabeth Kress.
– Everyone has a passion – this is ours.
On stage, Idar Håland was in tears when he got up and received the diploma for Håland Kjøtt.
– It is incredible that we get recognition for the burning commitment we take with us to work, every day, says a clearly moved Håland.
He says that the scholarship will go on to cultivate the same commitment among other food-loving young people.
– We are passionate about, and can learn a lot from, spreading that commitment to Norwegian food production to others as well, says Håland.
This year's Gladmat experience
This award goes to the exhibitors who have made a special effort to give the audience a good experience, either through generous tastings, good stories about the products or inspiring information on how to use the products they sell. The theme for this year's festival has been "Celebration", so this was something the jury looked for in the exhibitors.
This year there were two lucky ones who walked away with the victory in this category: Déjà Vu and the duo Siddis Gelato and Mexican Casa Salsitas. Other nominees were Matlauget, Felleskjøpet and Hjelmeland Naturlegvis.
– Déjà Vu cooks world-class food, and at the same time manages to compose a dish with clear elements of celebration. The chef's passion and enthusiasm has clearly spread to the employees, the jury believes.
About this year's second winner, who are two independent restaurants that have joined forces for the festival, they say:
– They have a clear commitment, are passionate about what they do and have really chosen to focus on celebration.
Condition of the year
The exhibitor who has made a special effort to create a good and pleasant stand for the audience, will be rewarded with this award. This year, Helgø Meny Food Court, Matlauget, Sunde gardsutsalg and ASMarGel were all nominated, but it was Hjelmeland Naturlegvis who walked away with the victory.
– Hjelmeland Naturlegves has made a stand with a very good atmosphere. They represent the village with pride and unity, in addition to passion for the profession and their products, the jury believes.
– The stand was easily recognizable with a large eye-catcher. They put Hjelmeland on the map.
This year's innovation
This year's innovation will pay homage to the risky, innovative and unknown. This year, Fisketorget ran away with the victory. The other nominees in this category were Spiseriet, Siddis and Casa Salsitas, Yips, and Smaken av Ryfylke (Hjelmeland Naturlegvis).
– Fisketorget has really reached the top of exciting flavors in an innovative way. We danced already to the first taste! The presentation was a delight to the eye and a loving symphony for the taste buds.
Fisketorget's Gladmat dish, trout with jalapeño, passion fruit, puffed rice and sesame seeds, also received six of Aftenbladet's reviewers.
This year's local food product
The award that will promote local producers in Rogaland went to Matjes this year. The other nominees in this category were Topp Sopp, Stavanger Ysteri, Hjelmeland Naturlegvis and Litlestøl.
– With their enthusiasm for local food and their product in particular, this spreads to everyone who is lucky enough to meet this gang, says the jury about this year's winner.
This year's most circular exhibitor
This category was new this year, as the festival has focused more on reducing waste and minimizing climate footprint and waste.
Here, Topp Sopp ran away with the victory, as they have been thinking circularly right from the start. They produce their own products from other people's waste.
– They have an enormous knowledge and infectious enthusiasm for what they do, and this small company is a great inspiration for all of us, the jury believes.